===>Carmaker eyes Mexico for new plant[field]===>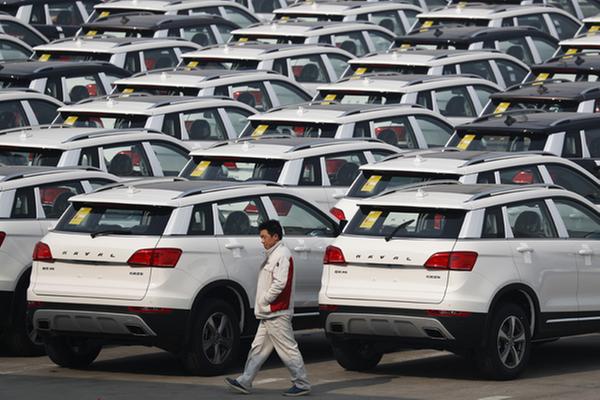 A worker walks past Haval SUV models parked outside the Great Wall Motors assembly plant in Baoding in North China's Hebei province. PROVIDED TO CHINA DAILY
Great Wall Motor is looking at two states in the Trump-hit country
MEXICO CITY/BEIJING - Chinese automaker Great Wall Motor Co Ltd is considering building an auto plant in two Mexican states hit by US President Donald Trump's drive to make US companies invest at home, sources said.
Great Wall Motor, which describes itself as China's biggest SUV and pickup manufacturer, is interested in building a plant in Nuevo Leon in northern Mexico or the central state of San Luis Potosi, three people familiar with the matter said.
Under pressure from Trump to keep jobs in the United States, Ford Motor Co in January canceled a $1.6 billion plant in San Luis Potosi, while heating and air conditioning firm Carrier in December scaled back plans to move production to Nuevo Leon.
Great Wall Motor officials met with Mexico's top railroad firms, Ferrocarril Mexicano, part of Grupo Mexico, as well as Kansas City Southern de Mexico, to evaluate the states' connectivity, according to a source and two documents seen by Reuters.
One of the sources said the company was in direct talks with Nuevo Leon's government.
Another source said the automaker was also eyeing a US-based plant but gave no further detail on locations.
A senior Great Wall Motor executive, speaking on condition of anonymity, said the choice between US and Mexican locations would depend on trade issues involving the United States, Mexico and China.
Great Wall Motor and Ferromex did not immediately respond to requests for comment. "We have not issued any official information (regarding this issue)," Zhang Wenhui, vice-president of Great Wall, told China Daily on Wednesday.
A pledge by the Chinese company could bolster Mexico's efforts to reduce dependence on US trade and investment as Trump threatens to rip up the North American Free Trade Agreement and rails against US firms moving jobs south.
Reuters and China Daily